"Wel­come to the world of tomor­row!" No, that's not right. Let me try again: "Wel­come to the world of the last seven days!" That sounds bet­ter! There's a lot to show-and-tell, so with­out any fur­ther ado, let's jump straight into last week's social media news.
The Future of Facebook
There's been a lot of talk about Facebook's future last week. Reg­u­lar Geek views the new mul­ti­Query API plus the pro­file search as two impor­tant steps in open­ing the walled garden:
There is a very strong feel­ing from devel­op­ers that a closed sys­tem like Face­book can­not suc­ceed. While I tend to agree that a com­pletely closed sys­tem will have dif­fi­cul­ties, Face­book has slowly opened up lit­tle by lit­tle to a decently open sys­tem. They still have some work to do before they become as open as Twit­ter, but the foun­da­tion has been started.
And Copy­blog­ger, even goes a step fur­ther in explain­ing "How Face­book kills SEO":
But the rise of Face­book cre­ates a grow­ing seg­ment of the web that's com­pletely invis­i­ble to search engines — most of which, Face­book blocks — and can be seen only by logged-in Face­book users. So as Face­book becomes ever larger, and keeps more users inside its walled gar­den, your web site will need to appear in Facebook's feeds and searches or you will miss out on an impor­tant source of web traffic.
Read­WriteWeb looks even fur­ther into the future. My guess is that sce­nario 4, "dis­trib­uted social net­work­ing", has a huge poten­tial, and Google wave might give this a huge boost:
The next step after Face­book may be no social net­work in par­tic­u­lar at all — it may be social net­work­ing as a pro­to­col. A set of stan­dards that let you mes­sage, share with and travel to any social net­work you choose. Sud­denly all the social net­works have to improve because they are com­pet­ing on qual­ity of ser­vice, over cus­tomers that have free will and are able to leave at any time.
From blog­ging to lifestreaming?
Blog­ging is dead — that's what they've been say­ing for a cou­ple of years now. But is lifestream­ing here to stay? Of course a social media feed is a wel­come guest on many side­bars, and the time bud­gets are indeed shift­ing:
It seems as if blog­ging is becom­ing old hat, or at least evolv­ing into some­thing smaller, faster, and more portable. I'm with Louis Gray, I'm not going to give up my blog, instead, I think of it as the hub of con­tent, and the rest of the infor­ma­tion I aggre­gate (notice the Twit­ter bar up top and the Friend­feed inte­gra­tion below). To me, join­ing the con­ver­sa­tion is cer­tainly impor­tant, but it doesn't mean the hub (or cor­po­rate web­site) goes away.
19 Twit­ter apps compared
Mash­able com­pares 19 twit­ter clients, from pro-dream-machine to keep-it-simple:
Now that Twit­ter is older than a tod­dler, you have a vari­ety to choose from. From apps for groups, Mac and PC spe­cific clients, and apps that let you do a whole lot more than tweet, you can use this guide to help you find the desk­top client that's right for you.
And just in case you don't know what to do with these clients, take a look at his Mash­able post­ing on twit­ter strategy..
The matrix tie-knot
I found Henry's video on Life­hacker — this one should make many Matrix fans quite happy:
If you're a very sharp-eyed fan of Matrix movie tril­ogy, you'll rec­og­nize the knot cap­tured below as a rare spec­i­men sported by "The Merovin­gian." The knot itself didn't orig­i­nate with the movie, and isn't right­fully named "The Merovin­gian Knot," but the Edi­ety Knot. Still, it's nearly impos­si­ble to find any ref­er­ence to it inde­pen­dent of the movie, so let's just keep the Wachowski-an ety­mol­ogy for now.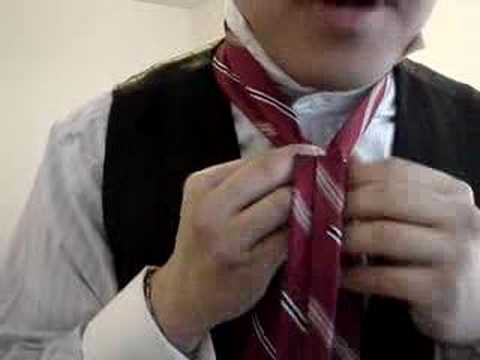 It took me a cou­ple of tries and my knot is still not per­fectly sym­met­ric — but I must say: great video-tutorial!
The cost, the pay-off, the quickie
The Cost (and Pay­off) of Invest­ing in Social Media sure is an impres­sive title. So there's no need for actual argu­ments, espe­cially when the intro­duc­tion acts as a series of climaxes:
But is social media right for your busi­ness? Could it be a free sub­sti­tute for a tra­di­tional (read: expen­sive) adver­tis­ing plan? How much time should be spent in the care and feed­ing of all those pro­files? The answers may sur­prise you.
It sure did not sur­prise me — actu­ally, I'd have guessed that the answer would be "maybe". But one thing I do know for sure: SM strat­egy (read: social media. don't read: Sado-Maso) is not a series of quick­ies and requires care­ful analy­sis and plan­ning. So this is prob­a­bly one of the dumb­est quotes I've read in a while:
Time is money, but Weath­ers says it's all about how you man­age it. "Pre­vi­ously wasted down time like sit­ting in taxis for 20 min­utes or stand­ing in a bank line for 10 min­utes is now spent on my mobile phone, bounc­ing between Twit­ter and Face­book. It's get­ting eas­ier and eas­ier, and for brand­ing an entre­pre­neur, I think it's golden."
While writ­ing the occa­sional tweet on your way to the air­port or answer­ing Face­book mes­sages via Smartphone-client is a great time-killer for geeks, this is not what social media mar­ket­ing is about.
btw: bad, bad entrepreneur.com! Using a javascript that dan­gles with the con­tents of the clip­board when copy-pasting is just… not a good thing.
Most Word­Press Themes suck!
And it's Blair Williams who claims that — author of the mighty and highly acclaimed Pretty Links for Word­Press. Now we all know that good looks are some­times suf­fi­cient for a night of fun, but if you're think­ing about a long-term rela­tion­ship, there are plenty not-so-visible fac­tor to be con­sid­ered: in the case of a Word­Press tem­plate com­ment for­mat­ting, land­ing pages and many more are among these. In his post, Blair out­lines the 10 most com­mon issues with Word­Press tem­plates — def­i­nitely worth a look if you're think­ing about switching!
I'll think a theme looks clean, beau­ti­ful and pro­fes­sional — then I install it, have a look under the hood and real­ize that it has fatal flaws.
This really makes me won­der how many peo­ple are slav­ing away on their web­sites and blogs all the while their site is dying a slow death because of a Word­Press Theme that they think is fine.
Brüno comin' up
It's been a while since Sacha Baron Cohen shocked the world as Kas­tach­stan reporter Borat. In his new movie he por­trays a gay Aus­trian fash­ion jour­nal­ist — I'm so look­ing for­ward to see this film — start­ing on 10th of July. The trailer is *very* promising:
Pic of the week
Man's Best Friend is the title of zedzap's bw-shot — very nice pic, no HDR this time
Video of the Week
This movie has got it all: action, car stunts, dar­ing love scenes… unlike the direc­tor of the lat­est Bond movie, Asim Varol did a great job:
And that's it — see you again next week! Thanks for you whuffies and never for­get: com­ments and feed­back make blog authors happy
Got any news you'd like to read about in my weekly round-up of cur­rent blo­gos­phere events?
Don't hes­i­tate to con­tact me! Of course I'll include a back­link to your orig­i­nal story.

So don't hes­i­tate — just click here for the con­tact form and give me an update on your issues: Give me input!.